Holiday Parade Registration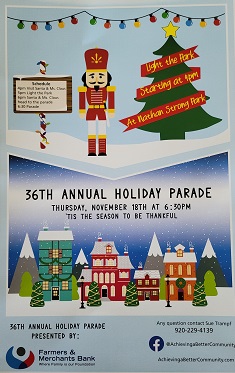 "Tis" the Season to be Thankful" is the theme for the 2021 Holiday Parade and a great opportunity to express to all, that our community is thankful for this holiday season.
Below, you will find a parade registration form that can be filled out online and will be sent to (a parade committee member) The entry fee of $25 can be mailed to (City Hall or a name) or can be paid through Pay Pal online.
This year, all floats will automatically be entered into the parade float contest (unless applicant requests not to participate).
There will be two categories; Commercial and Non-Commercial, each with three prizes:
First place-$100,      Second place-$75     and Third place-$50.
All entries are due by Monday, November 8, 2021.
Parade schedule is as follows:
5:00pm - Float line up begins (times, spots, and a map will be provided for you prior to the event)
5:00pm - 6:20pm - Floats will be judged by Mayor Joel Bruessel and two other community representatives.
6:30pm - Parade begins.
The Community Holiday Parade Committee would like to thank you for supporting this time-honored event and helping up share the magic of the holidays!
Sue Trampf, Harry Kwidzinski, Angie Evans, Ashley Bartol, Marie Weiske, Chris Kalupa and Sara Rutkowski.
Parade Guidelines
I understand that Santa CANNOT be present on my float or as a walker; Santa will ONLY be on the final float.
I understand all entries should incorporate this year's theme: 'Tis the Season to be Thankful. Politically themed floats are NOT allowed.
I understand that if giving out candy I must HAND it to kids, NO THROWING candy allowed. This is a safety precaution to prevent kids from running into the road near moving floats.
I understand I will NOT be refunded the entry fee if the parade is cancelled or I am unable to participate.
ALL parade entries MUST arrive to the designated parade assembly area at their designated time, NO exceptions!
I understand and agree that the Community Holiday Parade Committee, a division of Achieving a Better Community, Inc., is not responsible for theft of, accidental loss, or damage to property incurred prior, during or immediately after the parade and hereby release the Community Holiday Parade Committee for claims, damages, or costs relating thereto.
Register for Parade

Print a PDF:  here is a Holiday Parade PDF Form .

All paper copies should be put to the attention of: Community Holiday Parade Committee and can be mailed/dropped off at City Hall in Berlin.
All entries with payment, are due Monday, November 8th.