The ABC Group of Berlin Wisconsin, is all about Achieving a Better Community!

Let Freedom Ring Festival 2023
Monday, July 3rd
1:00 PM - 11:30 PM
North Shelter House
Riverside Park, Berlin WI
The fun begins and your favorite bands will be back to entertain and delight you.
Lots of fun for the whole family.
"Half Twisted Half Knot"
Magic/Balloon tying 1pm-5pm
"Cattail Critters Petting Zoo" 4pm-6pm
PLUS
Face Painting, A Coin Dig, Rock Painting,
2 bounce houses
PLUS
Adult Games (Pull Tabs)
Vicki's Lunch Truck, Popcorn, Dollar Dogs,
Ice Cream and plenty of "refreshments"
Corn Hole Tournament
Starts at 2:00 pm
2 Person Teams - $20 per Team
Must Register in advance
and pay entry Fee prior to
July 3rd
at Berlin Lanes 119 S. Pearl St.
Questions? Call Eric 920-361-1282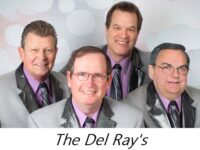 Del Rays  from 1:00 PM to 4:00 PM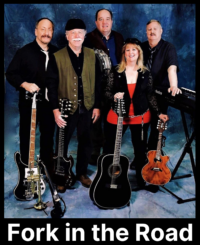 Fork In the Road from 4:00 PM to 7:30 PM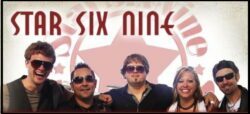 Star Six Nine from 7:30 PM to 11:30 PM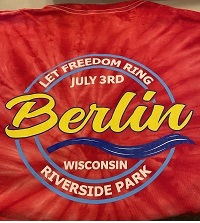 Let Freedom Ring
T-Shirts will be for sale at the
3rd of July Celebration
Red Tie-Dye
and
Blue Tie-Dye
$15  each

Let Freedom Ring $599 Raffle
Tickets are 1 for $5, 3 for $10, 7 for $20
Tickets can be purchased at Country Inn, Jorgies, and ABC members Sue Trampf, Wendy Swansby, Mary Hopfensperger,
Jerry Dowen, Tom Yancy and more.
Grand Prize: Dewalt Deluxe
Cordless Tool Set Value - $599.
1st, 2nd, and 3rd prizes - $599
4th prize - $299
5th prize - $199
plus many many more prizes
and Last Prize - $5.99
Raffle prizes will be listed as they are donated by our community businesses,  so be sure to check regularly.  Here's what the raffle will be offering so far.
Additional prizes - Thank you
supporting businesses

Berlin Beauty - $20 Gift Cert.
Berlin Feed - 2 - $100 cash prizes
Country Inn - 2 pizzas.
2 fish fry.    $15 Gift Cert.
Mike's Bike Shop - $10 Gift Cert.
The Mop Shop - Gift Basket
Curve Inn - 4 Gift Certs.
Good Times - 2 Bottles Vodka.  Pizza Gift Cert.
Henry's Honey Farm - 2  2# jars honey
Waushara Country Club - golf 4-some w/carts ($200 value)
Jeff's on the Square - 2 - $10 Gift Certs.
TS Nails - $10 Gift Cert.
Corbritt's Car Wash - 5 coupons for $9 car wash.
Frank's Meat Market -$10 Gift Cert.
Hong Kong King - $30 Gift Cert.
Jorgies - 2 $50 Gift Certs.
Berlin Lazer Car Wash - 12 - $12 Tokens
Lazer Investments - $100 cash