The ABC Group of Berlin Wisconsin, is all about Achieving a Better Community
Wishing all of you the very best for a
Happy New Year in 2022!
The 2021 "Light the Park"
came to life on November 18th,
with glorious, spectacular and meaningful experience for all who came to participate.
See the "2021 Light the Park" video
Courtesy of Ryan Klassa
Highlights at the Park
Slideshow
"Find the Soldiers" Contest held from December 1st through December 18th
Congratulations to the winners of the Adult
"Find the Soldiers" Contest sponsored by the
ABC Group
And the winners are:
1st place $100 Amy Keaton
2nd place $75 Adam Mlodzik
3rd place $50 Lisa Mlodzik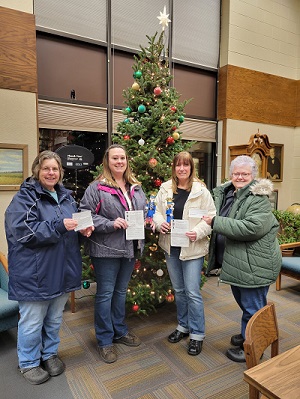 Pictured from left to right: Vicky Pawlacyk (ABC Group) Amy Keaton, Lisa Mlodzik and Sue Trampf (ABC Group)
The "2021 Light the Park" was once again an extraordinary event.  Many thanks from the ABC group to the volunteers, the planning committees and the sponsors who helped to make this years event a huge success.
Santa & Mrs. Claus
Fortifi Bank
Reindeer
Fortifi Bank
Fox River Dental
Badger Mining
Horse and Carriage
Las Brasas
Fortifi Bank
Vicki's Lunch Wagon
Vicki & Vince Pawlacyk
Cancer Tree
ThedaCare
Community Holiday parade
was presented by
Farmers and Merchants Bank
In addition, thanks go out to the Community Holiday Parade Committee, the Elf Extravaganza for putting the Find the Soldiers Forms in the Shopping Bags and
The Friends of the Park