The ABC Group of Berlin Wisconsin, is all about Achieving a Better Community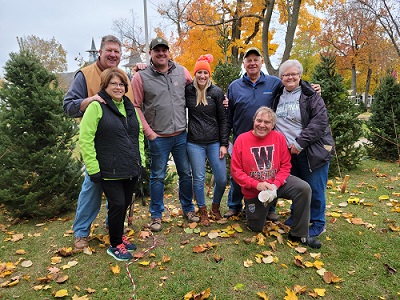 Headed by Coaches Harry Kwidzinski and Sue Trampf, and joined by Midge and Andy Seaman (left), Jake and Ashley Bartol and Mike Bartol (center), over 130 trees are now in place and have all been adopted and ready to decorate.
Thanks to the community coming together,
this was a record year for number of trees for the park, the time it took to set up all those trees, and for the record setting time that all trees were adopted.
Berlin WI Holiday Schedule 2021
All trees in the Park have been adopted as of Nov. 3
November 8 - Parade Registrations are due.
November 15 - Trees must be decorated by this date.
November 18
4:00 - 6:00  - Visit with Santa and Mrs. Claus
and see the live reindeer.
(They will be there after the parade too)
4:30 - 6:00 Horse drawn Carriage Rides through the streets of Berlin.  
There is no charge, but donations are accepted.
4:00 - including after parade
Vicki's Lunch Wagon at the Park
5:00 - "LIGHT THE PARK"
6:30 - "HOLIDAY PARADE"
November 27 - Elf Extravaganza
Learn More

"Tis The Season to Be Thankful"
"Tis the Season for the Magical Night"
Once again, Nathan Strong Park will come alive with over 100 beautifully decorated trees by members of the community.  Berlin's premiere event, "Light the Park" will bring lights, joy, and love on Thursday, November 18th at 5:00pm.